CloudCTI for Android
Fully functional edition for your Android phone including Click-to-Dial, Caller Recognition and Contact Screen Pop.
Getting started
Installation of CloudCTI is very easy:
1. Download the CloudCTI lightweight software from this website and install.

2. Download the CloudCTI for Android app from Google Play and sign in.

Now you are ready to set up a call with your smartphone from any Windows application using the hotkey, and on incoming calls on your smartphone you'll get a notification on your pc. Great!
How to use Click to Dial
Highlight the phonenumber and press the "PAUSE" key on your keyboard. The number is then sent to your android phone. Set up a call from any application on your desktop.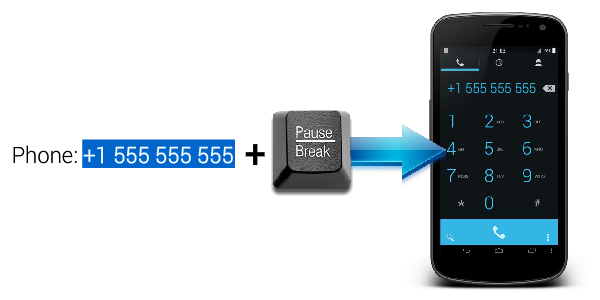 Notification on inbound call
When your phone receives an inbound call, a notification will be displayed. Click on the notification to copy the number onto the Windows clipboard.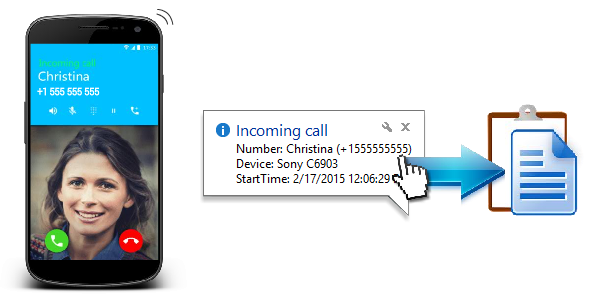 CloudCTI Recognition Tool for CRM integration
To set up an integration with your CRM, the CloudCTI administrator user installs the CloudCTI Recognition tool.
3. Download the CloudCTI Recognition Tool software from this website and install. Simply select your CRM application from the list and complete the CTIWizard.

Now when a call comes in on your smartphone, you get a notification on your pc, featuring any field from your CRM database (caller recognition) and you may, with one mouse click, screenpop real-time the related screen in your CRM. It is also possible to initiate a phone call to the contact on screen from within the CRM application. Read more..
How to pop-up the contact
If a calling customer is recognized, the notification contains CRM data. Click on the notification to pop-up the application's CRM contact-card.